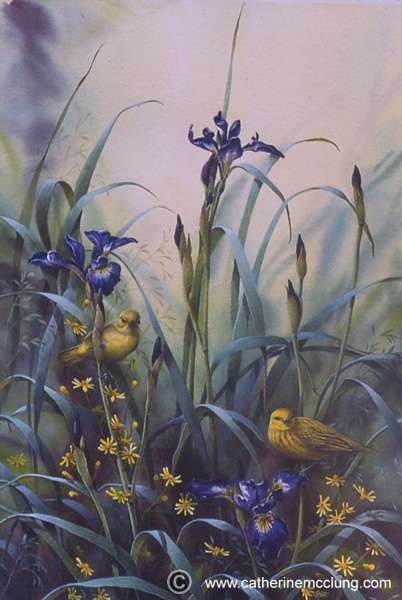 Image Size 13" x 19"
550 Signed and Numbered Limited Edition Prints
$85 + $5 shipping + 6% MI sales tax
Visa, Mastercard & Discover accepted
"Blue Flags, Yellow Warblers"

The Yellow is one of the best known warblers because of its wide range and frequent visits to home gardens where it is not shy. Although it does not frequent feeders, I have often observed the aggressive Yellow frantically flitting about the area, chasing off every "trespasser" or singing loudly from the topp branches of some shrub. With its brilliant yellow plumage and prominent rusty streaks on the breast of the male, the Yellow is a conspicuous bird of the garden or streamside woods.
Canoeists on northern rivers are often delighted by the showy feathers of the blue flag, a native iris of the northeastern wetlands. Blooming in a true spectrum of colors, the iris was named for the Greek goddess of the rainbow. Iris are often called flags because of the way they flutter in the wind. I chose to paint the Yellow Warblers with the handsome violet flowers of the blue flags; yellow and violet, my favorite combination of complimentary colors.